Cannabis Legalization, Our Expert's New Book, And How You Can Profit…
For the past few weeks, I've been waiting to sit down with my colleague John Persinos to ask him some questions about one of the biggest trends sweeping America right now.
You see, John was putting the finishing touches on a project he's been working on for months.
It's controversial… political… game-changing… potentially life-altering…
It could also lead to some of the most incredible gains investors have seen in their lives.
I'm talking about the growing legalization – and commercialization – of cannabis.
But first, a little about John.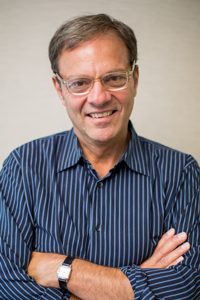 As the editorial director of Investing Daily, our parent company, John is in charge of overseeing the publication of their premium newsletters as well as daily free content.
But you should also know that John started his career as a Press Secretary in Congress. So when it comes to the legalization side of things with marijuana, he knows how the legislative sausage is made.
Combined, he has over 30 years of political and investment expertise.
A while back, John took an interest in the burgeoning marijuana industry. And upon closer examination, he saw a need to provide clear, actionable analysis of this space. Ultimately, this led to the publication of his new book, The Wide World of Weed and Psychedelics.
Now that his book is out, John was gracious enough to answer some questions I had about legalization efforts and how investors should play the many opportunities in this space. (My questions are in bold.)
---
First of all, John, congratulations on the book launch. I told our readers a little bit about the genesis of this project… but what really motivated you to put so much time and effort into writing about this corner of the stock market?
Thanks, Brad. I like to call this "green rush," because it's feeding an investor frenzy reminiscent of the 19th-century gold rush.
We're seeing incredible investor excitement about "pot stocks". There's just one problem… Many of these plays are tiny penny stocks that generate neither earnings nor revenue. Gullible investors who indiscriminately pile into the pot sector will see their money go up in smoke.
My goal is to point investors to the right ways to profit from marijuana investments. That's because investors who jump aboard quality cannabis stocks in the early stages can reap life-changing profits. But they need guidance. Hence my interest, and ultimately, my book.
What's the current state of legalization efforts in the U.S., and what kind of market opportunity are we talking about here?
Marijuana is transitioning from a counter-cultural act of youthful rebellion to mainstream capitalism. It's still outlawed at the federal level, but increasing numbers of states are legalizing Mary Jane for medicinal as well as recreational use.
The latest legalization efforts bring the total of legal adult-use states to 18, along with the District of Columbia. There are currently 37 states that have medical marijuana laws, including all that allow recreational use. Take a look at this map:
Keep in mind, the marijuana industry's growth is a global phenomenon. Research firm BDSA recently estimated that global cannabis sales reached $30.6 billion in 2021, for both recreational and medical varieties. BDSA projects that worldwide pot sales will more than double to exceed $62 billion by 2026.
How big is marijuana in the United States? A new study released this month shows that marijuana is more popular with American consumers than the food and beverages sold by coffee behemoth Starbucks (NSDQ: SBUX).
In 2021, legal marijuana sales in the U.S. (both recreational and medical) outpaced all North American Starbucks sales by a wide margin. Pot sales in the U.S. in 2021 reached about $27 billion, whereas North American Starbucks sales during the same time frame came in at $20.5 billion.
The numbers are all the more striking, when you realize that coffee is legal everywhere, whereas marijuana is banned on the federal level and in several states.
Also noteworthy is how pot sales in the U.S. exceeded Starbucks sales in all of North America. The green mermaid is losing out to the green rush.
The legalization of psilocybin fungi (aka "magic mushrooms"), LSD, and other psychedelics also is accelerating on a global basis, for recreational and medicinal purposes. It's a brave new world, Brad.
By now, our readers have undoubtedly heard about medical marijuana. But what does the research actually say?
Medical marijuana is one of the hottest corners of the biotechnology sector for investors. The potential this apparent wonder-herb packs for alleviating symptoms of countless diseases, as well as its curative properties, makes biotech companies developing cannabis-based treatments among the most exciting and potentially lucrative investment opportunities today.
Despite the demonization of weed by authorities for decades, a growing body of empirical scientific research shows that marijuana confers physical and psychological benefits.
There's a significant need for new painkilling medicines and cancer treatments that mainstream pharmaceutical giants aren't meeting. That's why Big Pharma is pouring billions of dollars into medical marijuana research, as well as the acquisition of smaller innovative marijuana biotechs.
You just mentioned that cannabis stocks can be "risky." If so, is the risk worth it?
Stock picking is particularly treacherous in the cannabis industry. Marijuana poses huge investment opportunities, but you need to be careful.
Corporate marketing in the marijuana industry often lapses from hyperbole into outright fraud. Many marijuana penny stocks are aggressively promoted, even though they have lousy fundamentals.
That's why, when researching a stock in any industry, I dig deep into earnings estimates, to look under the hood, so to speak, to gauge the true source of earnings growth. The volatile marijuana industry requires extra effort, but the pay-off can be gigantic. My book, The Wide World of Weed, pinpoints cannabis stocks that I've recommended in the past that eventually soared.
I like your comparison to the gold rush. Similar to "picks and shovels" back in the 1800s, are there any profitable side plays for this trend?
I especially like the pick-and-shovel plays on the marijuana boom. These companies aren't necessarily about growing marijuana nor are they developing cannabis-derived drugs. They're infrastructure stocks that can be wildly profitable.
You can seek greater safety (and profits) by focusing on the ancillary firms that provide infrastructure services for growing pot companies in either the recreational or medical segments.
Pick-and-shovel plays can be reliable money-makers, because they provide essential value-added services. What's more, they usually enjoy a diversified roster of clients in several different industries, which buffers them from the inherent volatility of the marijuana business. If you seek market-beating growth opportunities without aggressive risk, pick-and-shovel marijuana equities are excellent choices. But again, selectivity is key.
Editor's Note: The legalization and commercialization of cannabis could be one of the hottest growth opportunities that we'll ever see…
If you pick the right pot stock, you could make incredible, life-changing gains. But you don't want to gamble in this space and risk getting burned, either.
You should know the ins and outs of this industry and the related trends to take a level-headed calculated risk. And that's where John comes in…
That's why I urge you to check out The Wide World of Weed and Psychedelics. It's your definitive guide for making money in the thriving cannabis and psychedelics industries.