Video: The AI Race Is On… And It's A Great Chance To Buy This Tech Stock
Today, I want to try something different. I recently talked about the artificial intelligence race, which is heating up, in a special video update with my premium readers. I also discussed how Alphabet (Nasdaq: GOOGL), better known as Google, fits into the battle — and how it may be a buying opportunity.
You can check it out by clicking the video below. A condensed and edited text version follows.
Hey guys, Jimmy Butts here with Capital Wealth Letter. Today I want to give you a quick update on a portfolio holding, Alphabet (Nasdaq: GOOGL), better known as Google.
Last week on February 8th, shares tumbled roughly 8%. The following day shares slid another 5%. That's a pretty big move.
That 8% move wiped about a hundred billion off its market cap.
So what happened? What's going on? Should we be concerned? Those are some of the questions I hope to answer.
First, what happened…
Google's Bard Blunder
Last week Google published a video presentation of their AI software, Bard, which is their Chat GPT competitor.
This is artificial intelligence software that interacts in a conversational way. If you're not familiar, that's okay. I'll touch on them here in a second.
But back to Google's presentation. As they were showcasing their AI software, Bard answered a question incorrectly. Immediately after, shares of Alphabet tumbled 8%.
As you can see here by this NPR headline:


I personally believe this is a major overreaction, and offers investors a good buying opportunity.
People aren't looking at Alphabet's fundamentals. Perhaps they glossed over the fact that the company made $60 billion in free cash flow last year.
To put that into perspective they could give every person in the entire state of Texas $2 grand and still have money left over.
But regardless, the bigger takeaway is the anticipation and tension surrounding this artificial intelligence.
Now if you're not familiar with all the racket surrounding AI (artificial intelligence) like Chat GPT and Google's Bard, let me give you a quick rundown.
The Future Of AI Is Here…
First off, Chat GPT is pretty cool. If you haven't messed around with it, I highly encourage you to go check it out.
Using the ChatGPT's AI software you can type in a question, and it'll spit out an answer. Hopefully it's correct answer, but an answer nonetheless. There's still a lot of work to be done.
For instance, it can't give you answers to any relevant information. I think it's database ends in 2021 or maybe 2020. So, you can't ask it about something that happened last week. It also can't do things like answer basic riddles.
For instance, I found this example:
"Mike's mom had four kids. Three of them are Luke, Drake, and Matilda, what is the name of the fourth kid?"
The AI software says, "it is not possible to determine the name of the fourth child without more information."
The guy responds: "The answer is in the question."
The Chat AI software says, "I apologize for the confusion. It is not possible to determine the name of the fourth child based on the information provided, blah, blah, blah, blah."
And the answer is, Mike, in case you are wondering. So like I said, there's still a little bit of work that needs to be done. But more often than not, Chat GPT is really interesting. It'll provide fascinating or sometimes excellent answers. You can have it explain some pretty complex topics.
Closing Thoughts
As we've seen the harsh reaction from Google Bard's blunder last week, the arms race for artificial intelligence is heating up. In Chat GPT, Microsoft invested more than $10 billion into this software to hopefully incorporate it into their search engine.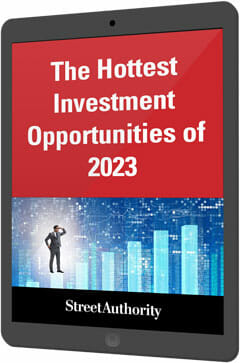 And this has a lot of people worried about the future of AI and how it might take over people's jobs, which it will probably will.
So it's a hot topic right now. But you know, the bottom line is I'm confident Alphabet will get things ironed out with their AI software and they'll be competitive in the space. But in the meantime, I believe that this is a good buying opportunity.
So hopefully, that explains things, and you got a better idea of why roughly $170 billion was wiped off of Alphabet's market cap last week.
In the meantime, my team and I have just released a report of "shocking" predictions for 2023 (and beyond)…
This report is easily one of the most hotly-anticipated pieces of research we release each year. And if history is any guide, it could be one of the most profitable things you read all year…
From the U.S. dollar to driverless trucks to breakthrough cancer treatments and more… If you're looking for ideas that could turn a modest investment into a small fortune, this is where you'll find it.